Buy Books
Buy Books

Authored by Pinaki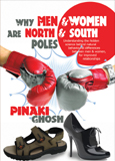 Why Men And Women Are North And South Poles
By Pinaki Ghosh | paperback | $11.90
Genre: self help; Pages 160; Paperback; Price: Rs 150 in India, US$11.90 for delivery outside India
Bestseller since 2007. Grab the enhanced, improved version today.
Do men ogle more than women? Why do men dominate the remote control and women talk 3 times as much as men? Why can't men locate their stuff, but women can? Why do women love shopping and men hate it? Why do men hate criticism, or will seldom marry their female boss? Why do women discuss their sex life with friends, or get lost in a new city? What is the science behind these stereotype behavior of the two sexes? Discover the breathtaking scientific analysis in extremely an humorous and enjoyable writing style. Take the unique test to determine your sexual trend. Understand your partner better in the light of science and history, and appreciate him/her more.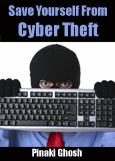 By Pinaki Ghosh | Price: Rs.190.00, international price: $11.90
The day began in the usual manner, a bowl of cornflakes and a stack of letters (more bills actually). As I opened my bills, mentally ticking off the amounts….the credit card bill zonked me out of my chair. The staggering amount of $3,400 burned in my mind. I was certain this was wrong, and as I checked the list, I could just make out two of the payments that I knew I had made online. The rest were incomprehensible. Oh! This couldn't be happening to me! I couldn't be a victim to cyber crime....I didn't know how to save myself. This can be a day in your life! Trust me!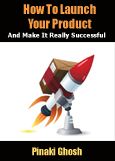 How To Launch Your Product - And Make It Really Successful
By Pinaki Ghosh | 361 pages | $7.00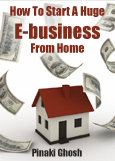 How to Start A Huge E-business From Home
By Pinaki Ghosh | $5.00