Services Offered: Order A Service From Below
Hire Pinaki Ghosh to write a world class screenplay or to get a bestseller book written

Welcome to the official website of Pinaki Ghosh; top co-writer / ghostwriter by popularity (source: Alexa.com) & popular screenplay writer.
Names of the films Pinaki is writing; have written, co-written (with other writers) or rewritten:
Captain India

(animated superhero movie/Action/Comedy) releasing in 2012

Kick it Like Ronaldo

(animated sport movie) releasing in 2011

Yamraj

(animated 26 episode television series/Comedy)

Ajooba

(104 episode animated series)

Impossible Hain Nothing -

major inspirational Bollywood movie against superstition with major star cast.

Ultima Force

- animated American action series

Animated full length Hollywood musical

Abrakadabra - Short animated film

for I-Nova Group Animation studio

13 episode animated comedy series

for teens distributed by Televisa, the largest media company in the Spanish speaking world.

Terminal Call

(Suspense/Mystery)

Fatal Illusion / Deceit

(Horror/Thriller)

Locksmith

(Action/Mystery/Thriller)

Pacman - The People's Champ

(Drama)

The End Game

(War movie/Action)

The Willow

(Horror/Mystery)

Untitled superhero movie

(Action/Comedy)

Lethal Retribution

(iPhone Game Script)

Ife's Gift (drama)

movie about Alzheimer's disease.

Ell Nino (drama)
Mind Magic (psychological thriller)
Make a Move (feature film)
Rwanda 1994

(war movie)

The Rajkumari, Princess, Prostitute

(British feature film)

The Doll

(horror)
If you are hunting for a true world class professional writer to help you write your screenplay, book, business book, ebook, novel, children's book, articles, you have landed in the right place, and need not look any further.
Pinaki, the author of 10 books, screenplay writer of over 20 important films (American, Indian, European), co-writer and ghost writer of over 50 books, ebooks, screenplays and celebrity biographies, has been in trade since 1991, when he wrote his first bestseller.
He has worked with world class media brands like BBC, Channel 4 (UK), National Geographic Channel and ABP, besides being the biographer and ghostwriter of top celebrities. Pinaki is also the founder of TheScreenplayWriters.com, premier screenplay service with a team of leading Hollywood and Bollywood screenplay writers, and Power-Publishers.com, Asia's leading self publishing company. One of the reasons why he is the most preferred person when busy people hire a writer, is that he almost invariably gives bestsellers. It is worth investing behind him. Pinaki writes a limited number of books, ebooks, novels & screenplays every year. Pinaki is also the first choice of talented filmmakers who want to make a great movie and surprise the world, because he is so affordable. Book him NOW, before his schedule gets filled up.
Pinaki in news
Yahoo News, October 30, 2011
According to Pinaki Ghosh, CEO of Kolkata-based Power Publishers, 60 percent of his clients are below 25.
'Then there are corporate hot-shots secretly nursing a dream of writing a book. They are very dignified and have lots of money and don't like it when their manuscripts are rejected,' said Pinaki.
There is also a category of authors whose works have a very narrow market. 'These books are usually education-related or something technical,' Pinaki told IANS on phone from Kolkata. Read full article here
Hindustan Times, Kolkata, July 6, 2011
Pinaki Ghosh's blog, TheScreenplaywriters.com, says Shree Ashtavinayak's production, Blue (2009) had a screeenplay by Joshua Lurie and Bryan Sullivan... Ghosh, who has written and co-written scripts for several Bollywood and foreign animation films, adds, "It is a belief that Hollywood writers produce original, quality content." Read full article here
The Telegraph, Calcutta, December 26, 2010
From his study in his Calcutta home, Pinaki Ghosh writes books for people from across the world — an American soldier on the 1994 Rwandan genocide; the mother of a New York City cadet killed in the World Trade Center blast in 2001; and a small time British leader looking to demolish his political opponent before the elections. Read full article here
The Telegraph, Calcutta, January 24, 2009
As a business, self-publishing is still quite young in India, says Pinaki Ghosh, who set up Power Publishers in Calcutta last year. But he expects to witness "a notable growth" over the next five years. "Thousands of wannabe authors will get drawn to this concept when they discover the benefits," says Ghosh, who founded Power Publishers as an extension of his three-year-old ghostwriting service, Writer4me. Ghosh expects to publish 25 books in 2009. Read full article here
The Wall Street Journal, April 18, 2008
According to Pinaki Ghosh, chief executive of Kolkata's Power-Publishers, there are about 20 self-publishers in India. The number, he said, is expected to increase. Power-Publishers, started in January 2008, has self-published five books and will publish another 30 by October, he said. .... He said outsourcing self-publishing to India costs about one-third of that abroad. "Our goal is to provide self-publishing service at rock-bottom prices, mainly for buyers of USA, Europe and Australia by offshoring and outsourcing the printing work to India. We get 80% of the work from these countries," he says. Read full article here

Compass (magazine)
Read Pinaki's interview in Compass, popular magazine for business school students.

Why Choose Pinaki?
1. Whopping 20 years' experience. First bestseller published in 1991.
2. Writer/co-writer of 20 major screenplays of movies and television series.
3. Writer of several bestsellers; can produce bestsellers on demand.
4. 10 authored books and over 50 ghostwritten/co-written books  
5. Brands like BBC, Nat Geo, Channel 4 and ABP have chosen to work with him.  
6. Leading ghost writer (source: Alexa.com).  
7. Worked with top celebrities worldwide.  
8. Surprisingly reasonable pricing; can be paid in easy installments.  
9. Wide range of services: feature film screenplays, film treatments, novels, children's books, business books, self help books, motivational books, personal development books, relationship advice books, health books etc.  
10. Unique offer of 10% discount (conditions apply).
Captain India, 3D animated movie; releasing 2012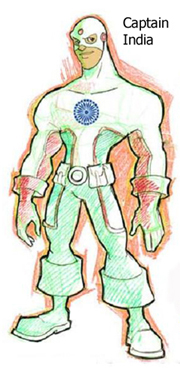 Some news links about 'Captain India', the movie I wrote recently:
Some characters of 'Captain India'.