Frequently Asked Questions
1. How does the process work?
To start a screenplay, I will either need a story or novel. If there is no story, I can write the story (treatment) based on any input or suggestions. Let me know if you want me to watch/study any particular movies before I attempt to write your screenplay.
All that I need from you to write/ghostwrite/co-write a book is an outline of the book, or a summary, or a table of contents, or a list of topics to be covered. You can simply mail it to me.
If you think you should talk to me, to convey your thoughts about the book, that works fine too.You can visit www.vocaroo.com, record your voice and email the voice file to me.
I can expand any sort of input into an enjoyable book.
The style (for non-fiction) will be conversational, with stories and examples; the style which most bestsellers follow. If you have another style in mind you may mention that.
If you have any material to be used as reference in form of unfinished manuscript, articles, brochures, audio files, or videos, and feel that I should study those to know the subject of your book better, you can send those to me; though that is not mandatory.
You need not be worried about the secrecy of your material, as there will anyways be a contract between you and me.
I may interview you in several sessions if I feel the project requires me to interview you. I recommend you install Skype for the  interview sessions.
2. Can I pay in installments?
Yes. While payments for projects worth less than $1,000 are taken as 100% advance, if your project value is over $1,000, you can go for installments:
1. 1/3 fees payable as advance to get your project started.
2. 1/3 payable on 35% work delivery
3. 1/3 payable on 70% work delivery.
3. What are the payment options?
Credit or debit card, through PayPal,
Bank wire transfer / online transfer
Cheque or bank draft (for Indian clients only)
4. Any discounts?
YES!
Discounts are available on larger orders. If you see the fee structure, you will notice that the larger is your order, the lower is your rate (per page).
10% early decision discount is available on the total fees, if you come to a decision & get your project started within 7 days from your first mail/inquiry.
5. Is there a Non Disclosure Agreement?
There will be a standard Non Disclosure Agreement between you and me, which you can download by clicking here. You have to change the portions in red, print it, sign it, and send it to me (by emailing me a scanned version or by post). I shall sign the same and send it back to you.

6. Who owns the copyright?
You will own the copyright of the manuscript once the fees are cleared; and can do anything with it.

7. Do I get work updates?
You will receive installments of the work every week from the end of the 2nd week. You can go through the work and suggest changes if any.

8. What is the turnaround time?
A 100 page book or screenplay is likely to be ready in 30 - 35 days; and a 150 page book in 45 - 50 days. If you have suggestions for changes, that would drag the project a little longer.
9. Can we meet to discuss the project?
Sure we can. You are welcome to come down to Kolkata to meet me with an appointment. If the value of your project is above Rs 100,000 / $3,000, I can travel to your location to meet you for a discussion. In case you want me to travel to your location for a meeting to discuss a project, you will be expected to bear the return airfare, accommodation in a standard hotel and conveyance within your city. Projects valued less than Rs 100,000 / $3,000 can be discussed via email and phone.
Books Authored by Pinaki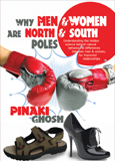 Why Men And Women Are North And South Poles
By Pinaki Ghosh | paperback | $11.90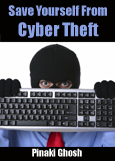 Save Yourself From Cyber Theft
By Pinaki Ghosh | $5.00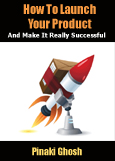 How To Launch Your Product - And Make It Really Successful
By Pinaki Ghosh | 361 pages | $7.00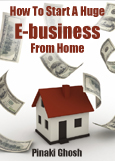 How to Start A Huge E-business From Home
By Pinaki Ghosh | $5.00